GTA Online gets a new plane, and, coincidentally a new Dogfight mode – Leaving on a jetplane
GTA Online continues to update with new content, this time round it's a new plane to fly around, and a new Dogfight mode to battle with it.
The new plane is the P-45 Nokota which is available at the Warstock Cash & Carry. Get it, and then take to the skies in the new Adversary Dogfight mode, where you'll take part in a series of 1 v 1 aerial duels.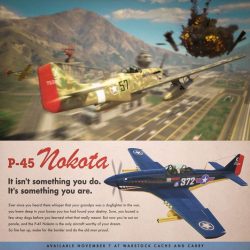 As well as this there's a slew of discounts to be found at various stores, and you'll find those detailed below.
DYNASTY 8
25% off Executive Office Renovations
25% off Executive Garage Renovations
25% off Executive Custom Auto Shop Renovations
AMMU-NATION
25% off Body Armor
25% off Ammo
VEHICLES & CUSTOMIZATION SAVINGS
25% off the Pegassi Torero (Sports Classic)
25% off the Dune FAV (Weaponized Vehicle – both Buy It Now & Trade Price)
25% off Liveries (all vehicles)
25% off Bullet proof tires
25% off Vehicle armor (land vehicles & aircraft)
You can also get 25% off of all Smugglers Run tattoos as well.
Source: God is Geek