LEGO Dimensions enters its second year with new characters and a new portal – Ghostbusters reboot brings the film experience
Hardly a secret now due to rumour and leaks, but the new packs making up LEGO Dimensions' second year have been revealed, and, they're quite something.
Starting on September 30 sixteen new packs will become available for the game starting with Harry Potter and Adventure Time level packs (characters, vehicle, item and level) and an A-TEAM fun pack (character, vehicle and item).
Additionally to this, the game will be getting a tie-in with the upcoming Ghostbusters movie reboot. This will feature a Chinese restaurant overlay for your portal along with Melissa McCarthy's character Abby Yates and the new Ecto-1 vehicle. The pack is something entirely new for LEGO Dimensions in that it's a Story pack, making it the game of the movie.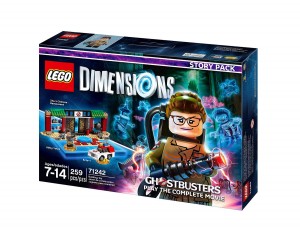 After this initial flurry we'll see movie based packs on the LEGO Batman Movie and the upcoming Harry Potter follow up Fantastic Beasts and Where to Find them. After that we can expect old skool favourites like The Goonies, Beetlejuice, Gremlins, Knight Rider and E.T. not to mention Cartoon Network's Powerpuff Girls and Teen Titans GO!
But, possibly the biggest surprise is the inclusion of SEGA's mascot, the cocky blue hedgehog Sonic, seen at the end of the above trailer stealing The One Ring away from Gollum.
If you thought they would stop there you'd be mistaken too. In a first for the LEGO games, you'll be able to take part in 4 player split screen co-op with new battle arenas. The minifigures within the new toy packs will come with special golden tags that will unlock arenas based on the franchise they belong to. Each arena will come with a set of modes and hazards specific to their brand.
Phew, that was a lot to take in. There's a lot to be excited about if you're a LEGO Dimensions fan, and a lot of money to be spent.
I just hope my son doesn't find out.
Source: God is Geek