Night On Endor Update Coming to Battlefront II – That's the Endor that
In news that nobody really expected, Star Wars: Battlefront II's newest mode will feature playable Ewoks. Starting on April 18th, the new, time-limited Night on Endor update will introduce Ewok Hunt, in which you play either as an Ewok or Stormtrooper.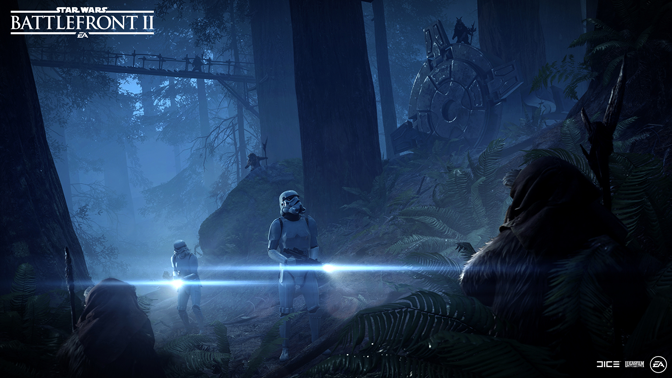 Unlike other modes in Battlefront II, every time a Stormtrooper is defeated, the player will respawn on the opposing team. The idea is to ambush and defeat the Empire on Endor, with Ewok defenders multiplying as the match goes on. It's an interesting and fun concept, possibly delighting fans of Return of the Jedi. Obviously, the Empire side will have the firepower advantage as well as flashlights, but the homeland defenders will be smaller and more agile, although time will tell if the balance is right or not.
On top of this new mode, the update will reintroduce Crystals but now they can only be used to buy cosmetic items. This leads nicely to the new character appearances available from April 18th, including Endor Han and Leia, as well as Scarred Kylo Ren and Ahch-To Rey from The Last Jedi. New trooper appearances will also be available, including First Order officers.
Finally, EA has confirmed that May will see the start of Season Two, which will focus on themed, limited-time events like Night on Endor, plus others to tie in with movie releases and Star Wars anniversaries. Whether this means that Solo: A Star Wars Story will be the next theme, is yet to be seen.
Source: God is Geek