"Shock announcement" as Just Cause 4 is revealed with gameplay trailer – Rico returns
Walmart Canada is our new E3, and so we knew Just Cause 4 was coming. Still it's nice to see Rico in action, and Just Cause 3 was terrific fun.
During Microsoft's 2018 E3 Press Briefing we got the official unveiling, with more expected at Square Enix's press conference tonight. Still, this is a game coming in December 2018 (this year!) nearly 3 years to the day the last one came out.
"We've taken everything that players loved from our previous games and with brand new features, enhanced physics and core gameplay improvements, we've created the most ambitious Just Cause experience to date," said Francesco Antolini, Game Director at Avalanche Studios. "The introduction of Extreme Weather is a complete game changer – players will not have seen anything like this in a videogame. We have created fully physicalized tornadoes, blizzards, sandstorms and torrential downpours which affect gameplay in a very real way. All of this is now possible thanks to our brand new Apex engine."
The game comes in a standard, digital deluxe, and GOLD edition, as detailed in the image below:
More details will be happening this week, and you can see the itinerary below: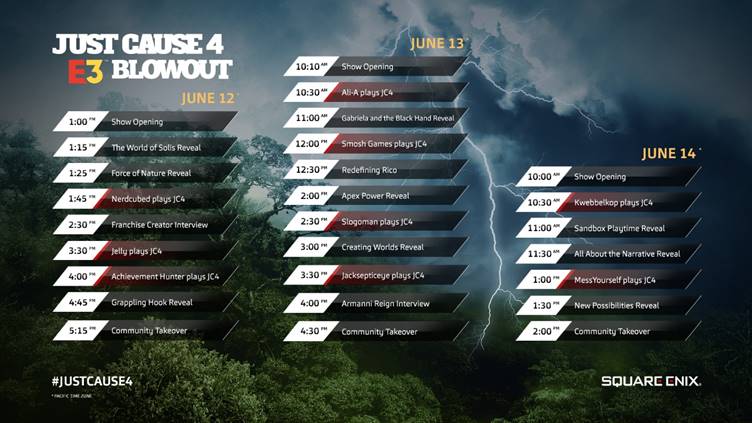 Finally, there's a behind-the-scenes look from Avalanche Studios right here:
Source: God is Geek