What New Features to Expect in Football Manager 2020
Football Manager isn't far from its November launch window, so SEGA and Sports Interactive have been outlining a few of the new features for this year. Keep an eye on the official Football Manager social media accounts like Twitter, because more info will be dropping throughout the next few weeks.
In the meantime, here are the first new features announced:
Graphical improvements
This is said to be the best looking game in the series so far, with more realistic player and manager models. The pitches have also had an upgrade, visibly affected by weather conditions and even marked by slide marks from sliding tackles.
Club Vision
You hate being judged purely on your league position, right? Sports Interactive knows this and has made changes, which include the new club vision. The board will now outline their vision for the club, which can span multiple seasons, so sticking to the board's five-year plan and building the club's culture is just as important as your position on the league table.
This vision will be outlined before you even look at your team, taking place in the Welcome Meeting before you take the reins proper. It takes place in the new boardroom environment.
Playing Time Pathway
Tired of players complaining about being on the bench? In Football Manager 2020 you will be able to lay out a plan to players, regarding how much they will play over the coming seasons. If you're looking to sign a young player for the future, for example, you can offer them playing time over future seasons as part of the contract negotiations.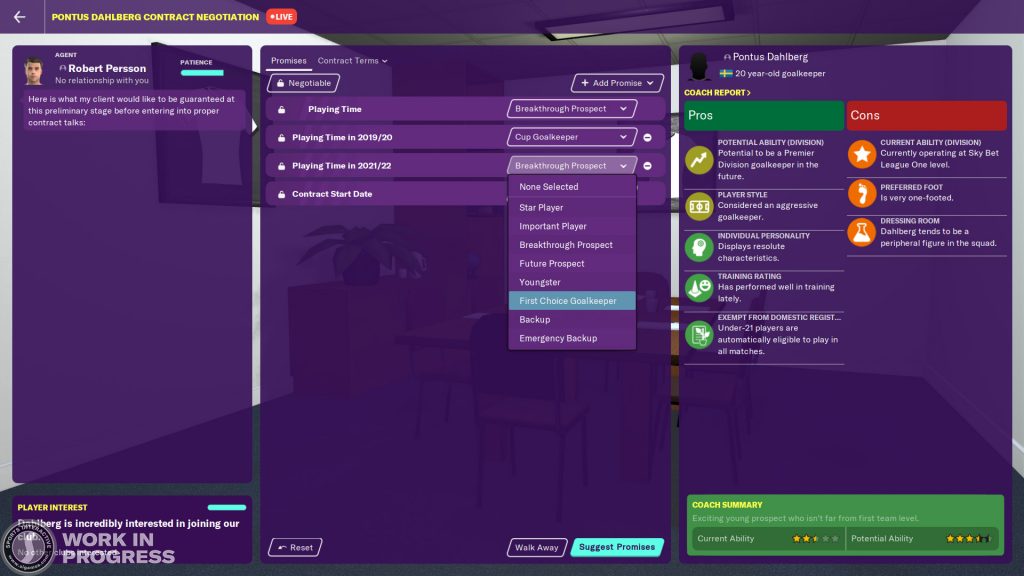 Backroom Staff
The backroom staff is integral to the success of a football team, which is why it's more important than ever in Football Manager 2020. There is a greater level of detail in the advice coming from your backroom staff, including a suggested squad for matchday.
As part of this, "to reflect the changing face of modern football" there are two new roles added: Head of Player Development and the Technical Director.
Development Centre
A new hub allows you to take full control of the youth team operations, allowing you to nurture young players throughout their early career at your club. All the way through the ranks, up until they reach the first team.
Alongside the overview that lets you see how all your young players are doing, there are even tabs to monitor players out on loan, your youth squads and youth intake. You can see advice on their progression and the 'ones to watch' will be highlighted, as will those in need of attention.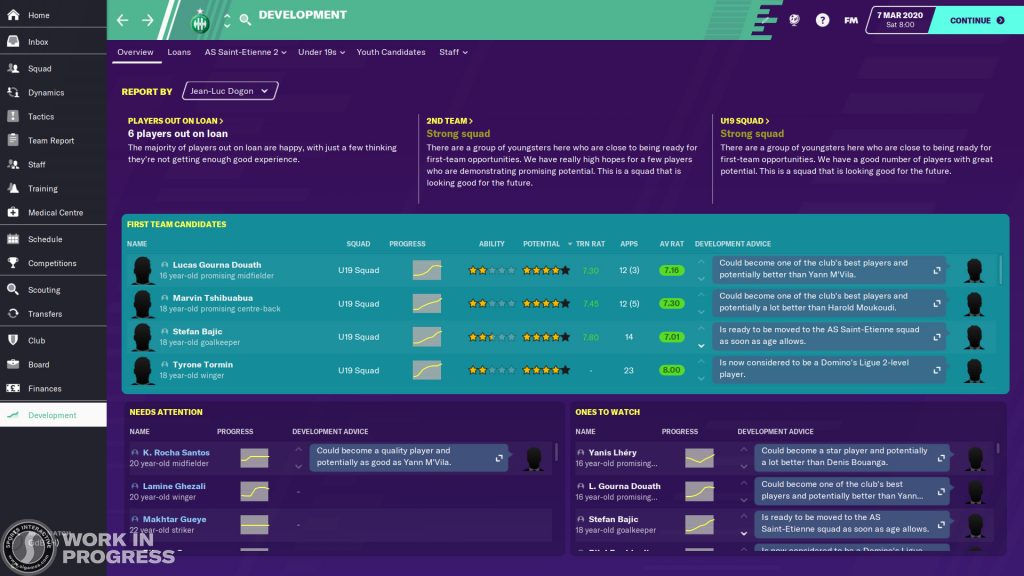 There's a lot of depth added with these new features, and you can try them for yourself when Football Manager 2020 arrives on PC this November.
The post What New Features to Expect in Football Manager 2020 appeared first on GodisaGeek.com.
Source: God is Geek